Venatos Northern Glow Hot Swappable Optical Keyboard
Breathtaking.
I was blown away by the quality and the feel of it. Looks great, and is great! Love how easy the software is to use as well! Can't wait to get some different keycaps for it!
Really nice keyboard!
This is my first mechanical keyboard and I'm enjoying it a lot so far. The tactile feel of the keys is quite nice and the light customization options are really cool. I hope they expand the software in the future to offer even more options (such as custom colors that do more than just sit statically or the ability to control the color of the border) but it's still very cool.
Love this keyboard it truly is high quality
I bought this keyboard after a friend of mine recommended it and I'm very impressed! The build quality is clearly better than a cheap $20 keyboard, this is made to last. I love love love all the rgb options which are fun to play around with. Every gamer needs this keyboard and I love that it's full sized so I can use it during my job as wel!
Venatos Northern Glow Hot Swappable Optical Keyboard
Great Keyboard
This keyboard looks so nice with all the RGB lights and the wristpad! Great keyboard and can see the lights even in the daylight! The only problem I've been having is that the wristpad doesn't stay connected. It randomly comes off the connector, like the tab/groove isn't deep enough. It also doesn't stay on when I have the keyboard elevated, the angle isn't right. So I have to put something under the wristpad to make it stay. Maybe if it had the tab/groove on the left side as well for it to sit on, it would stay in place better. But overall a great keyboard and typing experience! Can't wait to put on the ombre pbt keycaps on this!
Venatos Swapper Pro Fully Customizable Gaming Mouse
great mouse
love the swapper pro and have been using it for months now, would be sick to see a white version, or maybe a wireless?🧐
Best gaming mouse
So many custom options and it's so comfortable and light weight that I won't use anything else.
This is a great choice!
this mouse is amazing, i really love the feel of it in my hands and its customizable grip, and weight! this is a great choice!
Amazing Mouse!!!
When I first received the Venatos Swapper Pro it felt really solid and its really easy to swap out the parts. I can say that my aim has improved in almost every game I have played. Definitely a must buy. 5/5
VEN Mini [Purple and Blue] - Wireless Hot Swappable 61 Key 3-Pin Mechanical Keyboard
Really good keyboard
The keyboard was exactly as expected, keycaps felt nice, only problem was the shift key sometimes not pressing right and would almost snap into place.
Beautiful keyboard
I love how the keys will light up and how you can alternate the lights to how you would like them to look
Personal Opinion On Keyboard So Far
(In the pictures are some keycaps I bought of amazon, sdyz japanese keycaps coral sea, type that into your Amazon search bar and you should be able to find them.)This keyboard is awesome. It light weight and great build quality. Also they gateron yellow switches sound so good on the keyboard. Sure if you lube them yourself they would sound better but the way they came the switches have a nice sound to them. I've also been using this keyboard everyday since it came in the mail and I can't find any issues. One thing that is different is that use usb c port is on the middle back rather that right or left, I think it's nice because it's easier to work with. I'm going to keep using they keyboard to see if I can find any problems with it, but for right now it was a great purchase and would buy again. I might have a more in-depth review or opinion on this keyboard posted on my YouTube sometime soon, ZapstremonYT, this keyboard is awesome. I will also link a video to my unboxing of this keyboard.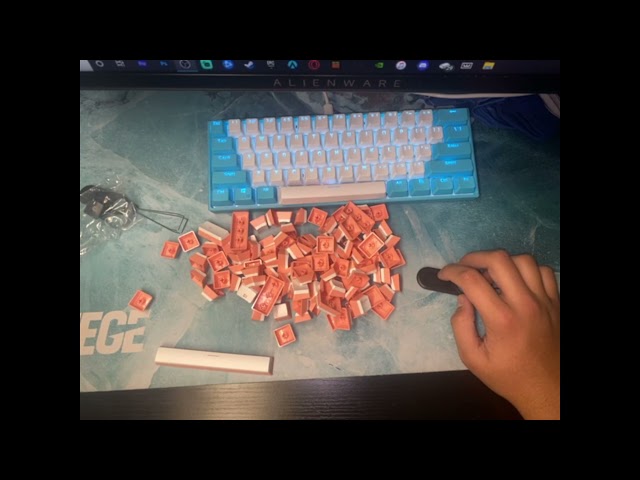 Black RGB Wave XXL Oversized Mousepad Desk Mat for Gaming Ultra Thick
BEST ONE 😍
I have no Idea where to start.
This is the best quality mouse pad I have bought and yet one of the most fair in prices. I've had big name gaming mouse pads and got rid of them but this one I wound be. The feel and the thickness is nice. At first I was unsure about me liking the thickness (4mm) and thought it would lent be enough but I was wrong. Love how fast it shipped was not happy I have to pay dutie taxs but its what it is. Love the back one and can't wait to order the white one.
Best Brand I have came across on TikTok to get me to spend money
Premium mousepad
A very good quality mousepad love it !!!
Northern Glow Detailed Review
Let customers speak for us